Co-Op Students Scholarship Success
APCRC - Q's Canadian Co-Op students receive Scholarships.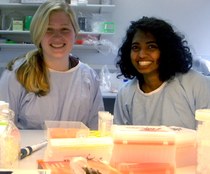 Co-Op Students: Kayla McGowan and Phoebe Sarkar
Two of the Australian Prostate Cancer Research Centre – Queensland's (APCRC – Q) newest additions, Canadian Co-Operative Program students, have been successful in receiving Canadian Scholarships.
Kayla McGowan and Phoebe Sarkar are two of four Canadian students spending eight months in the APCRC – Q labs on work placement.
Ms McGowan is among 22 British Columbian students to win a 2012 Premier's Scholarship of $10,000 for study abroad.
This scholarship will aid her during her time in Brisbane with the APCRC – Q, working on a project that seeks to explain why Androgen Deprivation Therapy (ADT), used to treat primary prostate cancer tumor cells, can have varying results.
The student is a Biomedical Physiology Major at Simon Fraser University (SFU) in British Columbia, in her 4th year of study and hopes to better understand the processes of ADT under different conditions and to explore other pathways or mechanisms to target the cells.
"It is my hope that my experience with the APCRC – Q will help to discover the field I enjoy most, as I prepare to pursue a combined MD/PhD," Ms McGowan said.
Ms Sarkar was successful in receiving a $1,700 One World Scholarship for her work in the effects of insulin on prostate cancer cells.
Applicants for this award must demonstrate both academic merit as well as significant involvement in their community and school.
The student has recently completed an honours thesis in health sciences and is in her 5th year of a Health Sciences Degree at SFU.
"I have a deep love for molecular biology and my research project at the APCRC – Q will allow me opportunities to gain more knowledge and specialization," she said.
Ms McGowan and Ms Sarkar work in a team led by Dr Brett Hollier, Senior Research Fellow at the APCRC – Q, whose work in developing new targeted therapeutics designed to stop certain cancers from progressing, has recently won him an Early Career Smart Futures Fellowship from the Queensland Government.