APCRC - Q Welcomes Co-Op Students
Recently, the Australian Prostate Cancer Research Centre – Queensland (APCRC – Q) welcomed four new students from Canada to undertake a work placement for eight months.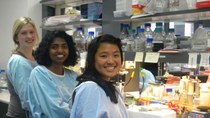 Recently, the Australian Prostate Cancer Research Centre – Queensland (APCRC – Q) welcomed four new students from Canada to undertake a work placement for eight months.
These students were selected through the Co-operative Programs at the University of British Columbia (UBC) and Simon Fraser University (SFU).  Tiffany Tang (UBC), Kayla McGowan and Phoebe Sakar (SFU) arrived in Brisbane early May and Mannan Nouri will join the students a few weeks later.
The APCRC – Q is the Australian hub for the Australian-Canadian Prostate Cancer Research Alliance (Aus-CanPCRA) and has a strong focus on international collaborative opportunities.  The aim of the Aus-CanPCRA's participation in such exchanges, is to provide an opportunity for researchers to participate in short-term traineeships with their collaborators.  These work placements enable the students to acquire new knowledge and skills and build productive, long-term collaborative relationships with Australian researchers.
The University of British Columbia's Science Co-Op Program provides undergraduate students in the Faculty of Science with an opportunity to integrate their academic education with experiential learning through relevant, monitored and paid year-round work placements of various time periods across the globe.
Ms Tiffany Tang of UBC is a Microbiology and Immunology Major in her 4th year of tertiary study.  She has previously worked in a cancer laboratory where she honed particular techniques including cell culturing and Western blotting.
Tiffany is interested in continuing her work in cancer research with the APCRC – Q.
"I am interested in working on and being a part of the EMT project, which APCRC – Q is involved in," she said.
"Furthermore, as a continuation of my work in cancer research in Canada, I am excited to expand my practical skill set in the lab and am so happy about the opportunity to work abroad in Australia!"
Simon Fraser University is home to one of the largest and most well-respected Co-operative Education programs in North America, established in 1975.  This program provides a transformation in confidence and professionalism in students whom are able to test and drive their career options within a highly supportive environment, gaining practical skills and developing strengths.
Ms Kayla McGowan is a Biomedical Physiology Major at SFU, in her 4th year of study.  Kayla's passion for cancer research stems from personal experience and she has learnt the mechanisms of cancer, the work being done in mapping the pathways of mutations and the tests performed to mark and differentiate primary and secondary tumours in her studies thus far.
Kayla is planning her next project and is eager to begin her co-op work in Australia.
"I wanted to work with the APCRC-Q because of the relevance of the work to my everyday life. With having witnessed the devastating effects of cancer in both my close family and friends, being able to apply my working knowledge to a subject so relevant is an exciting and incredible opportunity," she said.
Ms Phoebe Sarkar is in her 5th year of a Health Sciences Degree at SFU and was the recipient of the Shrum Science Entrance Scholarship as well as the Natural Sciences and Engineering Research Council of Canada Undergraduate Research Award, University of Women's Club Women in Science Scholarship and Laurine Harrison Award.
Phoebe has previously worked as a Research Assistant in Vancouver, gaining experience in human and mouse cell work.
"I was motivated to work at the APCRC-Q because it presented an opportunity to use my skills and knowledge towards finding the cure for an advanced level of prostate cancer that could potentially relieve the suffering of many men. Additionally, I have a deep love for molecular biology and the research project at the APCRC-Q would allow me opportunities to gain more knowledge and specialization," she said.
Mr Mannan Nouri is studying his 4th year of a Science Degree, with a previous Associate Degree in Science.  He has experience in microbiology, chemistry and biology as well as techniques including cell culture, microscopy, Gel filtration and Ion exchange.
Mannan looks forward to expanding his skills with the APCRC – Q in Brisbane.
"Besides the opportunity to live and work in a gorgeous part of the world, I wanted to work with APCRC – Q because the public molecular biology based research environment would contrast sharply with the for-profit biology based research environment I currently work in," he said.
Researchers at the Australian Prostate Cancer Research Centre – Queensland are looking forward to working with these four Canadian students over the next eight months.