Research Excellence Awards at PA Health Symposium
Arutha Kulasinghe, Jyotsna Batra, and Janaththani Panchadsaram received Research Excellence Awards at the recent Princess Alexandra Hospital Health Symposium.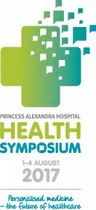 Previously known as the Young Investigator Awards, the Research Excellence Awards are designed to promote all forms of health research on campus and are open to both full-time researchers and health professionals engaged in research in addition to their clinical practice.
Arutha Kulasinghe won Researcher of the Year (oral presentation) category. Jyotsna Batra was awarded the People's Choice Researcher of the Year (oral presentation) and Janaththani Panchadasaram won the People's Choice Poster Laboratory/Basic Science Award.

The awards were presented as part of the 57th PAH Health Symposium a four-day event held from Tuesday 1 to Friday 4 August 2017 with the theme, Personalised medicine—the future of healthcare.
The Research Excellence Awards showcased a multidisciplinary program of oral and poster presentations—awarding the best medical, surgical, nursing, allied health, and laboratory/basic science research.