PARSS and PCFA Funding Awarded to APCRC-Q Investigators
Four APCRC-Q researchers were recently awarded funding for their research in 2016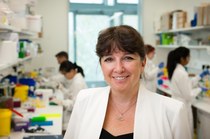 APCRC-Q Executive Director Professor Colleen Nelson received two awards from the Princess Alexandra Hospital Research Support Scheme (PARSS). A Men's Health Spirit Group Grant of $50,000 for one year was awarded to fund a project entitled: "Investigating the biological response to stereotactic radiation in oligo metastatic prostate cancer in mouse intra-tibial human prostate cancer models".
"In this project we will investigate how best to use targeted radiation therapy for metastatic prostate cancer," explains Prof Nelson. "Through detailed analysis of a mouse bone metastasis model, we  hope to optimise conditions for the delivery of targeted radiation therapy to bone metastases. This will help to determine  factors that  affect  bone  remodelling  and  tumour  control  following  radiation therapy. Our results will be used to inform future clinical trial design which, in turn, could lead to improved long term cancer control for metastatic prostate cancer patients."
Prof Nelson also received a PARSS NHMRC Near Miss Grant of $75,000 over one year for a project entitled: "Analysis of treatment response in metastatic prostate cancer using circulating tumour cells from longitudinal clinical trials and novel patent-derived organoids in culture".
Prof Nelson said that new insights into prostate cancer progression and treatment response/resistance are needed to improve the management of advanced disease and cancer specific survival.
"In this project we will use circulating tumour cell analysis to potentially assess patient's response/resistance to treaments over time.  This provides us with a minimally invasive "liquid biopsy" to analyse treatment responses, make better treatment choices and improving outcomes for patients with advanced prostate cancer," said Prof Nelson.
DProf Judith Clements and Dr Nathalie Bock both received funding in the 2016 Prostate Cancer Foundation of Australia (PCFA) grant round. DProf Clements was awarded a PCFA New Concept Grant of $99,732  over one year for her project entitled: "KLK14 as a novel therapeutic target in muscle wasting induced by androgen deprivation therapy".
"In this project, we will investigate whether KLK14 will contribute to the process that leads to skeletal muscle wasting that occurs during androgen deprivation therapy (ADT) in men with advance prostate cancer," explained DProf Clements. Results from this study could ultimately could lead to the use of KLK14 inhibition, in conjunction with ADT, to reverse this process and improved quality of life for men on ADT."
Dr Bock received a PCFA John Mills Young Investigator Award of $98,561 over one year to fund her project entitled: "Establishing a 3D in vitro model to replicate the tumour microenvironment in advanced prostate cancer bone metastasis".
"One significant consequence of the therapies used to treat metastatic prostate cancer is a change in body metabolism and an increase in their overall fat content," said Dr Bock. "This fat accumulation also occurs in the bones where the metastases develop. Considering that in other cancers, the presence of fat increases cancer survival, this project will test the idea that the presence of increased fat in the bone is a key contributor to prostate cancer progression and hence a therapeutic target against bone metastasis. Ultimately, the results from this project will assist clinicians to select better therapies for prostate cancer metastasis" explained Dr Bock.