PA Giving Day PA Prostate Team Fundraising a Great Success
The APCRC-Q PA Prostate Cancer team had a engaging 2nd Sept 2021, raising funds for the PA Giving Day We're all 4 the Heroes campaign.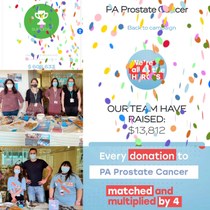 This PA Giving Day, the APCRC-Q raised over $13,800 thanks to the efforts of our wonderful PA Prostate team and the PA Research Foundation. Our Prostate team kicked off the day with a bake sale which was a huge success. Together the efforts of the PA Hospital community, the PA Giving Day collectively raised over $605,000 to fund patient support initiatives, medical research, staff education and specialist equipment at the PA Hospital Campus. A huge thanks to everyone for their support with donations on the day quadrupled, thanks to matching donors.