Jennifer Gunter and Michael Doran awarded PCFA research grants
Not one, but two researchers from the Australian Prostate Cancer Research Centre - Queensland (APCRC-Q) received Prostate Cancer Foundation of Australia (PCFA) research grants in the 2012 funding round announced on Friday 26 October.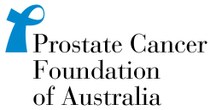 Dr Jennifer Gunter was one of only four researchers in Australia to be awarded the sought-after Young Investigator Grant for her project entitled: How does the metabolic syndrome contribute to prostate cancer progression and treatment resistance? Targeting hyperinsulinaemia in castrate resistant prostate cancer.
 "I'm very pleased and proud to receive this grant," said Dr Gunter. "Prostate cancer is the most commonly diagnosed cancer in Australian males, and, unfortunately, about 25% of those diagnosed fail primary therapy and commence androgen deprivation therapy. Although effective in treating the tumour, this therapy induces the 'metabolic syndrome' with symptoms similar to those seen in obesity and diabetes. For some patients this can increase their risk of cardiovascular disease and diabetes). In addition, the resulting elevated insulin level in blood is associated with accelerated progression of their prostate cancer towards an incurable stage of the disease resulting in a poor prognosis."
 "In this project, I will continue to investigate the actions of insulin and anti-diabetic medications on processes that support treatment resistance and cause the cancer to spread to other parts of the body. These findings will help us find out more about how prostate cancer progresses and may open up existing diabetes treatments as potential therapies for prostate cancer."
 Dr Michael Doran's project entitled: Engineering a High-Throughput Prostate Cancer Stem Cell Niche Mimic earned one of the eight New Concept Grants awarded in this round.
 "This grant means a great deal to us," said Dr Doran. "Our project aims to develop a platform of prostate cancer stem cells that will mimic more accurately than existing platforms, the unique micro-environmental conditions within the body that appear to enable prostate cancer-initiating cells to hide from the immune system and evade chemotherapy. This system will function as a powerful tool in the discovery of genetic and cellular factors that perpetuate prostate cancer metastasis to bone and evasion of chemotherapy, leading to the identification and testing of new drugs."
 "We believe this platform has the potential to supersede existing culture strategies as the 'gold standard' for in vitro prostate cancer drug screening."    
 2012 marked the fifth anniversary of PCFA's Research Program, which, with the assistance of Movember, has, since its inception in 2007, supported world-class prostate cancer research projects in Australia.  The last five years has seen the program award more than $30M to 136 projects nationwide.
"We are very glad that our Centre has received two grants from the PCFA," said APCRC-Q Executive Director, Prof Colleen Nelson. "Our congratulations go to the recipients. Their projects have great significance in realising our Centre's research aims to identify new methods and tools with which to predict, diagnose, and treat prostate cancer."