IHBI Gala Success
A highly successful Institute of Health and Biomedical Innovation (IHBI) Gala reception was held in December to showcase the Institute's research achievements on its' 5th Anniversary.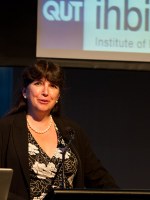 Professor Colleen Nelson spoke on her passionate thoughts on translational research and on the Centres' model objectives and aims of APCRC – Q as well as current research projects.
Ross Young is the Executive Director of IHBI.
"This was an opportunity to showcase our work to members of the commercial and health communities and was well attended," he said.
"Nick Graves and Colleen Nelson both spoke very well and the night was extremely well organised by IHBI Directorate staff.