Dr Ian Vela receives a 2015 Movember Clinician Scientist Award
APCRC-Q Urologic Oncologist and Senior Research Fellow Dr Ian Vela is one of only two clinician scientists across the country to receive a 2015 Movember Clinician Scientist Award.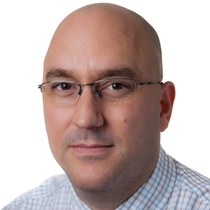 The Clinician Scientist Award, recently announced by the Prostate Cancer Foundation of Australia (PCFA),  aims to bridge the gap between clinical and laboratory work by assisting outstanding clinicians to work closely with laboratory scientists and further their careers in prostate cancer research.
This award will provide Dr Vela with $450,000 over the next three years to support his research into precision medicine in advanced and oligometastatic prostate cancer.
"This award will help us to establish a precision medicine program for men with advanced and metastatic prostate cancer," Dr Vela explained.
"This will enable us to identify potential effective treatment strategies based on the genetic analyses of individual patient's cancers and the response of their cancer to various treatments in the laboratory.  Our aim is to improve patient outcomes by determining and using the right treatment, at the right time, in the right patient."
This is the first time that PCFA and the Movember Foundation have accepted applications for the Clinician Scientist Award, with the Movember Foundation investing over $1 million for the new award category to support research into prostate cancer biology, treatment, diagnosis, survivorship and prevention.
"We congratulate Dr Vela on this excellent achievement, which offers an exceptional opportunity to advance his valuable research into prostate cancer," said Prof Colleen Nelson, Executive Director of the APCRC-Q.