Distinguished Professor Judith Clements awarded the Companion of the Order of Australia
APCRC-Q Scientific Director, Distinguished Professor Judith Clements, was awarded the nation's foremost honour, the Companion of the Order of Australia, as part of the Queen's Birthday celebrations in June 2015.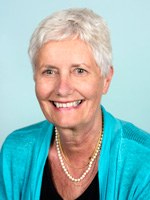 D/Prof Clements was honoured for her outstanding contribution to biomedical research, particularly prostate cancer research, and for her success in generating ongoing funding to support the establishment of critically-needed national medical research facilities.
From 1997-2014, D/Prof Clements led the Cancer Research Program in QUT's Faculties of Science and Technology, and Health, and at the university's Institute of Health and Biomedical Innovation (IHBI), where she continues to lead research programs which aim to more clearly understand the molecular and cellular basis for the development, progression, and spread of prostate and ovarian cancer.
The main focus of her research is the role of the prostate-specific antigen (PSA)-related enzymes and their utility as biomarkers or therapeutic targets for prostate and ovarian cancer. She has been internationally recognised for her pioneering research in this field – having been a recipient of the Silver (2000) and Gold (2007) medals from the German E. K. Frey - E. Werle Foundation.
In addition to her role as Scientific Director of the APCRC-Q, D/Prof Clements is the Chair of the Queensland Board of the Prostate Cancer Foundation Australia (PCFA) and in that capacity sits on its national board.
D/Prof Clements is a co-founder and current Chair of the Australian Prostate Cancer Bio-Resource (APCB), a national tissue bank, which collects, annotates, and makes available prostate cancer tissues and other clinical samples for research studies, both within Australia and overseas. She is also co-leader of the Queensland node of the international genetic consortium for prostate cancer, PRACTICAL, a key consortium that has discovered 100 new genetic regions that are associated with prostate cancer risk.
QUT Vice-Chancellor Professor Peter Coaldrake applauded D/Prof Clements as a "prostate cancer research leader and advocate on a state and national level".
"A QUT researcher of long standing D/Prof Clements continues to achieve ground-breaking discoveries and it is this unwavering commitment to make advances in cancer research as well as her strong collaborative approach and mentoring capacity that are her hallmarks."