Cure Cancer Australia grant for A/Prof Jyotsna Batra
A/Prof Jyotsna Batra was awarded a two year grant to further her work discovering biomarkers for prostate cancer.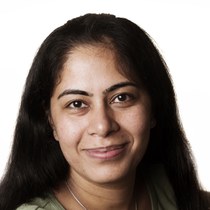 Jyotsna was awarded a a two-year grant of $200,000 for her project entitled: Functional and mechanistic characterisation of a novel LncRNA at chromosomal locus 5p15 in prostate cancer.
Through her previous Cure Cancer Australia grants in 2014 and 2015, Jyotsna has identified genetic variations - specifically in the regulation of proteins encoded in a person's DNA - that predispose men to prostate cancer. These genetic variations are promising therapeutic targets for new treatments for the disease.
Jyotsna believes that changes in gene sequences, when used alongside the traditional Prostate-Specific Antigen blood test (which can be unreliable on its own), can serve as effective biomarkers to identify men predisposed to developing prostate cancer.
These biomarkers can also help distinguish the slowly progressive from the aggressive form of the disease.
"By analysing the DNA of around 50,000 individuals, half of which belongs to prostate cancer patients, we've identified 100 genetic variations associated with prostate cancer risk", she says. "They can collectively explain about 30% of the inherited component of the disease".
"The 2017 funding will allow me to take the lead from previous work and continue to progress to testing on patients," she says. 
"It's given me the freedom to carry out novel and advanced research, which wouldn't have been otherwise possible".