Around the Globe
APCRC - Q's directors and staff represent the Centre internationally.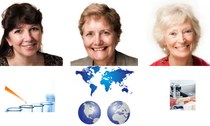 Representing APCRC - Q's research, Professor Colleen Nelson and others have been busy this year thus far, travelling the globe to network and attend conferences.
Professors Colleen Nelson, Judith Clements and Pamela Russell attended the American Association for Cancer  Research's Advances in Prostate Cancer Research Conference in Orlando, Florida in early February.  Professor Russell presented a poster titled "Use of targeted magnetic nanoparticles for imaging in prostate cancer".
Professor Judith Clements was an invited speaker at the Gordon Research Conference Plasimogen Activation & Extracellular Proteolysis Conference in Ventura, California in mid February, whilst Professor Nelson attended the Cambridge Healthtech Institute 2nd Annual Circulating Tumour Cell Conference in San Francisco.
Professor Nelson and Dr Morgan Pokorny attended the 27th Annual European Association of Urology Congress in Paris in late February, and Professor Clements attended the 29th Winter School on Proteinases and their Inhibitors in Munich during this time.
Professor Nelson also attended the Irish Association for Cancer Research's Annual Meeting held in Belfast, early March as an invited speaker.
A very busy start to the year, ensuring that APCRC - Q is promoted internationally and that collaborations and  current research activities around the globe are brought back to the APCRC - Q.