APCRC-Q Team win TRI SPORE Grant
Dr Jyotsna Batra (team leader), Prof Pamela Russell, and Dr Ian Vela, a Consultant Urologist at the Princess Alexandra Hospital; with UQ's Dr Alexandre Cristino, and their potential industry partners were awarded $50,000 towards their research into Prostate Cancer treatments.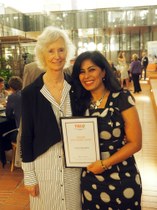 Their project entitled: "Novel MicroRNA's as potential targets for treating prostate cancer" aims to develop a novel therapeutic agent and commercialise a treatment for localised and metastatic prostate cancer.
The Translational Research Institute (TRI) SPORE Grant funding will enable the team to undertake pre-clinical investigations and in vivo validation studies to investigate the role of a novel MicroRNA in prostate cancer, and eventually develop new therapeutic solutions. The data generated through this project will be used to attract additional funding to advance the translation of their work.
Prostate cancer is the second most common cause of cancer death in men. Currently, there are limited therapeutic options for advanced and metastatic cancer, particularly for bone lesions which are the primary metastatic sites.  The current treatments are successful for between three and five years, however most men become resistant to these therapies.  Developing a treatment that does not trigger this resistance is a critical area of need in the management of prostate cancer.
The TRI 2016 Spore Grants provide seed funding for translational research. TRI provides $50,000 per grant, with the total amount each project receives dependent on the support the team has managed to garner from academic, clinical, and commercial collaborators worldwide.