APCRC - Q part of New Gamma-Tocotrienol Study
The Australian Prostate Cancer Research Centre - Queensland, the University of Hong Kong, and Davos researchers have found that gamma-tocotrienol is potent in killing prostate cancer stem cells.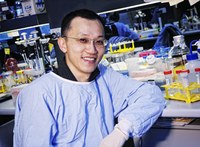 Dr Patrick Ling
A member of the Vitamin E family, gamma-tocotrienol is derived naturally from palm oil.
Prostate cancer stem cells are reponsible for prostate cancer initiation, and are resistant to conventional chemotherapy drugs.
The study, partly led by the APCRC - Q's Dr Patrick (Ming-Tat) Ling, aims to find a way to eradicate these stem cells. The latest findings showcase the potential of gamma-tocotrienol as a natural remedy for preventing and treating prostate cancer. Low doses of gamma-tocotrienol cause apoptosis in prostate cancer stem cells, suppressing their ability to form colonies. This then results in a lower prostate cancer stem cell count.
So far, these results suggest that gamma-tocotrienol could be developed for prostate cancer prevention and treatment.
These findings were reported in the latest edition of the International Journal of Cancer (IJC).