2019 Carla Patterson Award Winners
Congratulations to Dr Sri Srinivasan and Ms Farhana Martin on their recent success winning 2019 Carla Patterson Awards.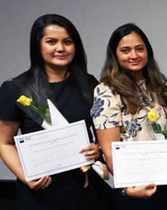 These awards recognise high-ranking journal articles that have the potential to significantly improve human health and make a difference to health and public good. All researchers at QUT's Institute of Health and Biomedical Innovation are eligible for the publication awards that are held in memory of Prof Carla Patterson, who dedicated her life to public health research at QUT.
Dr Srinivasan was successful in the Early Career Researcher Award category, while Ms Martin won the Higher Degree Research Student category.