2012 Aus-CanPCRA Symposium - Registration now closes 30th March!
The Australian-Canadian Prostate Cancer Research Alliance (Aus-Can PCRA) Symposium will be held in North Queensland's Daydream Island from Friday 13th to Monday 16th April 2012.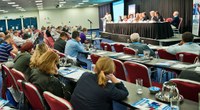 The Aus-Can PCRA's annual Symposium will once again present a great opportunity for those in the prostate cancer research field to meet with other researchers and collaborators.
The Aus-Can PCRA is a network of Australian and Canadian academic, scientific, clinical and professional experts and scholars working in the area of prostate cancer and it gives us great pleasure to organise the 2012 transnational meeting with the cooperation of our members.
The 2012 Symposium agenda will again be structured to provide ample opportunity to discuss collaborations and new innovative research between Canadian and Australian prostate cancer research communities.
Program information will be made available via our website as it is finalised.
Spaces are limited and registrations close 30th March 2012.  Secure your place now!