APCRC-Q Seminar Series - Dr Vasundara Venkateswaran & Dr Jennifer Gunter
This regular seminar series, hosted by the APCRC - Q, aims to bring together high calibre scientists, researchers, and clinicians from a cross-section of disciplines, enabling them to share discoveries and discuss the significance of their work in the treatment of prostate cancer.
Event Type
Seminar
When
Oct 10, 2011
from

08:30 PM

to

10:30 PM

Where

Princess Alexandra Hospital, Brisbane

Contact Name
Melissa Raassina
Contact Phone

3176 1894

Add event to calendar

vCal




iCal
Seminar Speakers:
Dr Vasundara Venkateswaran
Associate Professor, Department of Surgery, University of Toronto
Division of Urology, Sunnybrook Health Sciences Centre, Toronto, Ontario, Canada
"Diet, Lifestyle and Prostate Cancer: Mechanisms of action and implications
for chemoprevention."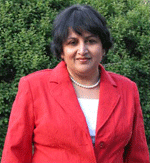 After completing her PhD at the University of Madras (UM), and research training in the USA, Dr Vasundara Venkateswaran worked as Assistant Professor and Head of Department, Biochemistry, UM. She ran the Prostate Cancer Research Laboratory at Sunnybrook and later served as Assistant Professor, Department of Surgery, University of Toronto, where she established a major initiative in the study of cellular effects of micronutrient research in prostate cancer. She was awarded peer-reviewed grant support from CPCRI, NCIC, Prostate Cancer Canada and CIHR, and collaborates with investigators throughout North America and Toronto.
Dr Jennifer Gunter
Research Fellow, Australian Prostate Cancer Research Centre QLD
Institute of Health and Biomedical Innovation, QUT
"How does metabolic dysfunction with androgen deprivation contribute to prostate cancer progression?"
Russell Strong Auditorium
Main Building, Princess Alexandra Hospital
Refreshments: from 4.30pm
Presentations: 5pm-6pm
Networking: 6pm-6:30pm