Raj Vasireddy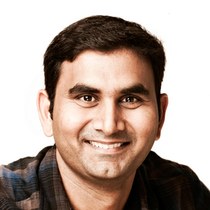 Positions
Postdoctoral Research Fellow, APCRC-Q
Member, IHBI, QUT
Contact Details
Email

Phone

+61 7 3443 7266
Related websites and profiles
Qualifications
PhD (Pathology) Molecular Biology and Genetics, The University of Melbourne, 2010, Australia
MSc Clinical Microbiology, Kasturba Medical College, 2002, India
BSc Applied Microbiology, Kakatiya University, 1999, India
Biography
Dr Raja Vasireddy received his PhD from the University of Melbourne in 2010. He was the recipient of Melbourne Research Scholarship for the duration of his PhD. Before moving into cancer research Dr. Raja worked as a lecturer in India, teaching clinical microbiology to medical graduates. He completed his Masters degree in clinical microbiology from the University of Manipal, India. During his PhD he investigated the relationship between histone modifications, DNA damage and clinical radiation sensitivity.
After completing his PhD Dr Vasireddy joined APCRC - Q and his current research interests include investigating the stress response in prostate cancer cells and identifying candidate genes that can be targeted to improve the treatment efficacy and patient survival.
Research interests
Stress mechanics and DNA damage response in prostate cancer cells.
Top publications
Vasireddy RS, Sprung CN, Nindy LC, Mckay MJ. British Journal of Cancer 2010 May; 102(10) 1511-18. H2AX phosphorylation screen of cells from radiosensitive cancer patients reveals a novel DNA double-strand break repair cellular phenotype.
Vasireddy RS, Tom C Karagiannis, El-Osta A: Cell Mol Life Sci (CMLS) 2010 Jan; 67(2) 291-4.Gamma-radiation induced gammaH2AX formation occurs preferentially in actively transcribing euchromatic loci.
Sprung CN, Vasireddy RS, Karagiannis TC, Loveridge SJ, Martin RF, McKay MJ. Mutation Research 2010 Oct 13; 692(1-2):49-52. Methylproamine protects against ionizing radiation by preventing DNA double-strand breaks.
Orlowski C, Mah LJ, Vasireddy RS, El-Osta A, Karagiannis TC. Chromosoma. 2010 Dec 21, PMID: 21174214. Double-strand breaks and the concept of short- and long-term epigenetic memory.
Lobachevsky PN, Vasireddy RS, Broadhurst S, Sprung CN, Karagiannis TC, Smith AJ, Radford IR, McKay MJ, Martin RF. Int J Radiat Biol. 2010 Nov 19, PMID: 21087168.
Collaborators
Derek Richard

Scientific Director, Cancer and Ageing Research Program, Faculty of Health, QUT
Prof. Kum Kum Khanna, Head of Signal Transduction Lab, QIMR