Peter Heathcote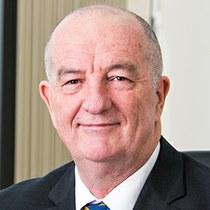 Positions
Specialist Urologist, Princess Alexandra Hospital
Chairman, Robotic Surgery, Greenslopes Private Hospital
Member, Multidisciplinary Team Clinic for Advanced Prostate Cancer, Princess Alexandra Hospital
Specialist Urologist at: Brisbane Urology Clinic, Greenslopes Private Hospital and Brisbane Private Hospital
Visiting Specialist Urologist at: Mater Private Hospital Rockhampton and Bundaberg Base Hospital
Contact Details
Phone

07 3830 3310
Related websites and profiles
Qualifications
Fellowship in Urologic Oncology - Radical Prostatectomy - Toronto, 1986
Post Graduate Fellowship in Reconstructive Urology, RACS, Cardiff UK, 1985
ECFMG/VOE, 1984
Primary Examination, FRACS - UROLOGY, 1979
MBBS,  University of Queensland, 1976
Biography
Peter Heathcote was born and raised in Brisbane and completed his basic medical degree at the University of Queensland. After an intern year in Cairns Hospital, he then worked in Longreach for two years before starting general surgical and urological training in Townsville and Brisbane. After completing Urology Speciality training, he spent further time in Cardiff, United Kingdom and in Toronto, Canada.
Dr Heathcote is a urologic surgeon with a special interest in cancer of the prostate, bladder and stone disease. With his colleagues at Brisbane Urology Clinic, Dr Heathcote established the first Robotic Prostatectomy program in Queensland after traveling to the United States for training. His team at Greenslopes Private Hospital performs several robotic prostatectomies a week and are developing further uses for the robot including partial nephrectomy and other major urologic surgery.
He is also Chairman of Brisbane Private Hospital's Medical Advisory Committee and holds an appointment as an examiner at the Royal Australasian College of Surgeons.
Dr Heathcote is an Inaugural Member of the Best Doctors Australia and New Zealand and acts as  a mentor in Robotic Surgery, Device Technologies Australia and New Zealand.
Research interests
Carcinoma of the prostate, robotic surgery, medical education
Top publications
Handoo Rhee, Jason Paterdis, Peter Heathcote. Robotically Assisted Laparoscopic Radical Prostatectomy Training In A Private Hospital. Journal Of Robotic Surgery 6:4 December 2012
Katherine Gray, Peter Heathcote And David Nicol., Does Teaching Affect Outcome With Major Open Surgery? ANZ Journal Of Urology (2008) 646-647
Steginga, S., Pinnock, C., Baade, P., Heathcote, P., An Educational Workshop On The Early Detection Of Prostate Cancer. Australian Family Physician. Vol 34, 889-891. October 2005.
Steginga, S., Occhipinti, S., Gardiner, R., Yaxley, J., Heathcote, P. A Prospective Study Of The Use Of Alternative Therapies By Men With Localised Prostate Cancer. Patient Education And Counselling. 55 (2004) 70-77.
Steginga, S., Occhipinti, S. Gardiner, R. A., Yaxley, J., Heathcote, P. Prospective Study Of Men's Psychological And Decision Related And Adjustment After Treatment For Localized Prostate Cancer. Urology 63(4), 2004 751- 756.
More publications are available on
PubMed
Professional memberships and associations
Urologic Society of Australasia
The Society Internationale de Urologique
Australian Medical Association
American Urologic Association
Princess Alexandra Hospital Society
RACS Medico Legal Interest Group
The Society of Robotic Surgeons
The Australasian Brachytherapy Group
ANZUP Urologic Cancer Trials Group