Lisa Chopin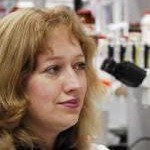 Positions
Professor, Faculty of Health, IHBI, QUT
QUT University Animal Welfare Officer
Leader, Ghrelin Research Group, Translational Research Institute, IHBI
Contact Details
Email

Phone

+61 7 3443 7234
Related websites and profiles
Qualifications
MAppSc, Queensland University of Technology, Australia, 1998
PhD, University of Queensland, Australia, 1996
BVSc (Hons), University of Queensland, Australia, 1990
Biography
Prof Lisa Chopin is the leader of the Ghrelin Research Group, based at the Institute of Health and Biomedical Innovation (IHBI) and Translational Research Institute (TRI), Brisbane, Australia. She is a registered Veterinary surgeon and cancer cell and molecular biologist. She has more than 15 years of experience working in the ghrelin field and her research group is recognized internationally as a leader in the field of ghrelin in cancer and their original research paper describing the ghrelin axis in prostate cancer was the first to demonstrate that ghrelin had an autocrine role in peripheral cancers. This led to a high impact review (Jeffery et al., Journal ranked in top 4% of field) and international collaborations. Her research group has described a large number of novel ghrelin mRNAs, which may have physiological and pathological significance, and long non-coding antisense genes in the ghrelin axis and therefore, they are world leaders in this field and in the discovery of novel isoforms. Prof Chopin has attracted significant support for her research via national and international funding sources (over $5.5m USD), extensively published her research outcomes and regularly presents at national and international conferences and scientific meetings. She is involved in research, teaching and coordination of undergraduate and postgraduate units, higher degree research supervision and curriculum design of a new Biomedical Science degree. She has an extensive University service role, and is Deputy Chair of the University Animal Ethics Committee and University Animal Welfare Officer. Prof Chopin regularly acts as an expert peer reviewer for a number of Australian and international competitive granting agencies, including the National Health and Medical Research Council, and Cancer Australia.
As a result of her international reputation in the field of ghrelin research, Prof Chopin was invited to be a Guest Editor for a Special Issue on Ghrelin in the international journal, Molecular and Cellular Endocrinology (Volume 340, 2011).
Prof Chopin currently supervises eight higher degree research (HDR) students. She was higher degree research (HDR) coordinator in the discipline of Medical Sciences, Faculty of Science and Technology (fast) (2009-2011) and was responsible for short-listing students for scholarships, student thesis milestone examinations, strategic planning and student recruitment.
Awards and grants
Awards
| | |
| --- | --- |
| 2013 | QUT Nominee for ANZCCART (Australian and New Zealand Council for the Care of Animals in Research and Teaching) National Animal Ethics Committee member of the year award |
| 2011 | Vice Chancellor's Performance Award, Queensland University of Technology |
| 2008 | Australian Learning and teaching Council Teaching Excellence Award (Biology, Health and Related Fields Category) |
Grants
| | | | |
| --- | --- | --- | --- |
| 2016-2017 | The Cancer Council Queensland | The ghrelin receptor antisense long non-coding RNA gene, GHSROS, as a potential target for prostate cancer therapy | Chopin |
| 2016-2017 | Foundation for Prader-Willi Research | Characterisation of anti-ghrelin autoantibodies in Prader-Willi Syndrome | Chopin |
| 2014-2017 | National Health & Medical Research Council (NHMRC) | The ghrelin axis as a target for prostate cancer therapy | Chopin (CIA), Herington, Chen, Seim, Veedu, Jeffery, Whiteside |
| 2014-2017 | Australian Research Council (ARC) | A new hierarchy of mathematical models to quantify the role of ghrelin during cell invasion. | Simpson, McCue, Herington, Chopin (CID), Maini |
| 2014-2017 | Prostate Cancer Foundation of Australia, Movember Revolutionary Team Award | Adaptive Response to Androgen Targeted Therapies: A Strategic Offensive on Resistance | Nelson, Williams, Gunter, Hollier, O'Leary, Lehman, Chopin (CI) et al., |
| 2013-2014 | Meat and Livestock Association | Development of novel mass spectrometry assays to investigate the expression and role of the ghrelin axis in neonatal lamb survival | Chopin, Parker |
| 2011-2014 | NHMRC project grant | The function of the natural antisense ghrelin recptor gene (GHSROS) in cancer | Chopin, Herington, Hill, Colgrave, Jeffery |
| 2011-2012 | National Breast Cancer Foundation | Understanding the biology of the basal-like breast cancer molecular subtype - a translational proteomics approach | Chopin, Simpson, Bennett, Lakhani, Hill, Murray |
| 2009-2012 | Prostate Cancer Foundation of Australia | A systems biology approach to elucidate the molecular mechanism of caveolin-1 and statins in prostate cancer progression and metastasis | Hill, Parton, Chopin |
| 2011-2012 | Institute of Health and Biomedical Innovation, QUT Human health and wellbeing cross discipline grant | Inter domain collaboration investigating biomarkers associates with changes in diet, physical activity and sleep in women with breast cancer | Anderson, Whiteside, Chopin, Seim et al |
Research interests
The hormone ghrelin in prostate, ovarian, endometrial and breast cancer progression. Ghrelin and ghrelin antisense genes in cancer. Novel ghrelin isoforms in cancer and in appetite regulation and energy homeostasis. FSH and breast and prostate cancer (with Dr Whiteside). Breast cancer biomarkers.
Current research projects
The role of the ghrelin axis in cancer. The ghrelin receptor antisense gene in cancer progression. Breast cancer biomarkers.
Top publications
Seib, Whiteside, Chopin, Anderson (2016) Stress, COMT polymorphisms and depressive symptoms in older Australian women: An exploratory study. Genetic Testing and Molecular Biomarkers, 20(8):478-481.
Seim I, Jeffery PL, Thomas PB, Walpole CM, Maugham M, Fung JNT, Yap PY, O'Keeffe AJ, Lai J, Whiteside EJ, Herington AC, Chopin LK (2016). Multi-species sequence comparison reveals conservation of ghrelin gene-derived splice variants encoding a truncated ghrelin peptide. Endocrine, 52(3):609-17.
W Jin, ET Shah, CJ Penington, SW McCue, LK Chopin, MJ Simpson (2016) Reproducibility of scratch assays is affected by the initial degree of confluence: Experiments, modelling and model selection Journal of theoretical biology 390:136-145.
Seim I, Jeffery PL, Thomas PB, Walpole CM, Maugham M, Fung JNT, Yap PY, O'Keeffe AJ, Lai J, Whiteside EJ, Herington AC, Chopin LK. Multi-species sequence comparison reveals conservation of ghrelin gene-derived splice variants encoding a truncated ghrelin peptide. Endocrine. (2016);523:609-617.
Jin W, Shah ET, Penington CJ, McCue SW, Chopin LK, Simpson MJ. Reproducibility of scratch assays is affected by the initial degree of confluence: Experiments, modelling and model selection. Journal of Theoretical Biology. (2016);390:136-145.
Xie TY, Ngo ST, Veldhuis JD, Jeffery PL, Chopin LK, Tschöp M, Waters MJ, Tolle V, Epelbaum J, Chen C, Steyn FJ. Effect of Deletion of Ghrelin-O-Acyltransferase on the Pulsatile Release of Growth Hormone in Mice. Journal of Neuroendocrinology. (2015);2712:872-886.
Seim I, Jeffery PL, Herington AC, Chopin LK. Comparative analysis reveals loss of the appetite-regulating peptide hormone ghrelin in falcons. General and Comparative Endocrinology. (2015);216:98-102.
Johnston ST, Shah ET, Chopin LK, Sean McElwain DL, Simpson MJ. Estimating cell diffusivity and cell proliferation rate by interpreting IncuCyte ZOOM™ assay data using the Fisher-Kolmogorov model. BMC Systems Biology. (2015);91.
Seim I, Jeffery PL, Herington AC, Chopin LK. Turtle ghrelin. Nature Genetics. (2014);466:525-526.
Seib C, Whiteside E, Lee K, Humphreys J, Dao Tran TH, Chopin L, Anderson D. Stress, Lifestyle, and Quality of Life in Midlife and Older Australian Women: Results From the Stress and the Health of Women Study. Women's Health Issues. (2014);241.
Seim, Josh, Pauli, Thomas, Whiteside, Herington, Chopin. (2013) The candidate long non-coding RNA growth hormone secretagogue receptor opposite strand (GHSROS), transcribed from the CDS intron of the ghrelin receptor gene (GHSR), stimulates cell migration in non-small cell lung cancer cell lines International Journal of Oncology 43:566-574
Seib, Whiteside, Humphreys, Lee, Thomas, Chopin, Crisp, O'Keeffe, Kimlin, Stacey and Anderson (2014) A longitudinal study of the impact of chronic psychological stress on health-related quality of life and clinical biomarkers: protocol for the Australian Healthy Aging of Women Study. BMC Public Health 14:9. doi: 10.1186/1471-2458-14-9.
Seib C, Whiteside E, Humphreys J, Lee K, Thomas P, Chopin L, Crisp G, O'Keeffe A, Kimlin M, Stacey A, Anderson D. A longitudinal study of the impact of chronic psychological stress on health-related quality of life and clinical biomarkers: Protocol for the Australian Healthy Aging of Women Study. BMC Public Health. (2014);141.
Pabalan NA, Seim I, Jarjanazi H, Chopin LK. Associations between ghrelin and ghrelin receptor polymorphisms and cancer in Caucasian populations: A meta-analysis. BMC Genetics. (2014):118.
Menzies, Seim, Chopin, Colgrave et al., (2014) Cloning and tissue distribution of novel splice variants of the ovine ghrelin gene. BMC Veterinary Research 10:211
Seim, Jeffery, Herington and Chopin (2014) Turtle ghrelin. Nature Genetics46:525
Seib, Whiteside, Lee, Humphreys, Tran, Chopin, Anderson (2014) Stress, lifestyle, and quality of life in midlife and older Australian women: results from the Stress and the Health of Women Study. Womens Health Issues 24(1):e43-52
Seib, Whiteside, Humphreys, Lee, Thomas, Chopin, Crisp, O'Keeffe, Kimlin, Stacey and Anderson (2014) A longitudinal study of the impact of chronic psychological stress on health-related quality of life and clinical biomarkers: protocol for the Australian Healthy Aging of Women Study. BMC Public Health 14:9. doi: 10.1186/1471-2458-14-9.
Fung, Jeffery, Lee, Seim, Roche, Obermair, Chopin, Chen (2013) Silencing of Ghrelin Receptor Expression Inhibits Endometrial Cancer Cell Growth in vitro and in vivo Am. J. Physiol. Endocrinol. Metab. 305(2):E305-13
Seim, Lubik, Lehman, Tomlinson, Whiteside, Herington, Nelson, Chopin (2013) Cloning of a novel insulin-regulated transcript in prostate cancer. Journal Molecular Endocrinology 50:179-191
Seim, Jeffery, Amorim, Whiteside, Lourie, Herington, Chopin. (2013) Expression of ghrelin O-acyltransferase (GOAT) mRNA in prostate-derived tissues and cell lines and differential in vitro regulation of GOAT expression by ghrelin and desacyl ghrelin. Reproductive Biology and Endocrinology 11:70
Seim, Josh, Pauli, Thomas, Whiteside, Herington, Chopin. (2013) The candidate long non-coding RNA growth hormone secretagogue receptor opposite strand (GHSROS), transcribed from the CDS intron of the ghrelin receptor gene (GHSR), stimulates cell migration in non-small cell lung cancer cell lines International Journal of Oncology
Chopin, Seim, Walpole, Herington (2012) The ghrelin axis-does it play a role in cancer progression? Endocrine Reviews 33:849-891
Seim I, Walpole C, Amorim L, Josh P, Herington AC, Chopin LK. (2011) The expanding roles of the ghrelin gene derived peptide obestatin in health and disease Molecular and Cellular Endocrinology 340: 111-117.
El‐Salhy M, Seim I, Chopin LK, Gundersen DI, Hatlebakk JG, Hausken T (2012) Irritable bowel syndrome: the role of gut neuroendocrine peptides. Frontiers in Bioscience, (Elite edition) 4:2783-2800
Seim I, El‐Salhy M, Hausken T, Gundersen DI, Chopin LK. (2012) Ghrelin and the brain‐gut axis as pharmacological targets for appetite control. Current Pharmaceutical Design 18:768-775 Chopin, Seim, Walpole, Herington (2012) The ghrelin axis-does it play a role in cancer progression? Endocrine reviews 33:849-891
Seim I, Josh P, Cunningham PS, Herington AC, Chopin LK. (2011) Ghrelin axis genes, peptides and receptors: Recent findings and future challenges Molecular and Cellular Endocrinology 340:3-9 .
Chopin LK, Walpole C, Seim I, Murray R, Whiteside EJ, Josh P, Herington AC (2011) Ghrelin and cancer Molecular and Cellular Endocrinology 340: 65-69.
El‐Salhy M, Seim I, Chopin LK, Gundersen DI, Hatlebakk JG, Hausken T (2012) The role of neuroendocrine peptides of the gut in the pathogenesis, diagnosis and treatment of irritable bowel syndrome. Frontiers in Bioscience, 4:2783-800
Seim I, El‐Salhy M, Hausken T, Gundersen DI, Chopin LK. (2012) Peptide hormones of the brain‐gut axis as pharmacological targets for appetite control. Current Pharmaceutical Design,18(6):768-75
Fung, Seim, Wang, Obermair, Chopin, Chen  (2010) Expression and in vitro functions of the ghrelin axis in endometrial cancer Hormones and Cancer 1:245-255
Seim, Herington and Chopin (2010) Tandem B1 SINE retro-elements may provide a basis for natural antisense transcription in the Mag1 locus of the mouse (Mus musculus) Genes and Genomics 32:443-447
Seim, I., A.C. Herington, and L.K. Chopin, (2009) New insights into the molecular complexity of the ghrelin gene locus. Cytokine Growth Factor Rev, 2009. 20(4): p. 297-304 (IF=8.239, cited 4 times)
Seim, Carter, Herington and Chopin (2008) Complex organisation and structure of the ghrelin antisense strand gene GHRLOS, a candidate non-coding RNA gene BMC Molecular Biology, 9(95)
IS Seim, AC Herington, CC Collett and LK Chopin (2007) Revised genomic structure of the human ghrelin gene and identification of novel exons, alternative splice variants and natural antisense transcripts BMC Genomics 8:298 PL
Jeffery, A. Yeh, AC Herington, LK Chopin (2005) The role of ghrelin in prostate cancer cell proliferation: ghrelin activates mitogen-activated protein kinase (MAPK) pathways in LNCaP and PC3 prostate cancer cells and a novel preproghrelin isoform is highly expressed in prostate cancer Clinical Cancer Research 11:8295-303
PL Jeffery, RE. Wight, RP Duncan, A. Yeh, JF McNamara, AC Herington, LK Chopin (2005)  Expression of components of the ghrelin/growth hormone secretagogue receptor axis in breast cancer cell lines and in breast cancer histopathological specimens Endocrine Cancer Research 12:839-850
PL Jeffery, RP Duncan, AC HeringtonA. Yeh, R. Jaskolski, DS Hammond and LK Chopin (2005) Expression of the ghrelin axis in the mouse: an exon 4 deleted mouse proghrelin variant encodes a novel C terminal peptide Endocrinology 146(1):432-40
Team
Dr Inge Seim
Carina Walpole
Rachael Murray (Wight)
Patrick Thomas
Collaborators
Dr Eliza Whiteside
Dr Penny Jeffery
Professional memberships and associations
| | |
| --- | --- |
| Current | Endocrine Society (USA) |
| Current | Endocrine Society (Australia) |
| Current | ANZLAA |
| Current | Australian Physiological Society |
| Current | Registered Veterinary Surgeon (QLD) |