Irina Oleinikova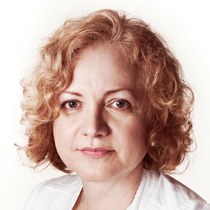 Positions
Manager, Clinical Research, Urology, Queensland Health, Princess Alexandra Hospital
Member APCRC-Q
Contact Details
Email

Phone

+61 7 3176 2217
Related websites and profiles
Qualifications
Certificate in Nutritional and Environmental Medicine (NEM) 2014
Postgraduate Qualifications in Paediatrics, University of Kazakhstan, Alma-Ata Clinical Children's Hospital 1989
Bachelor Degree in Medicine and Surgery MB/BS, University of Kazakhstan 1982
Biography
Urology Clinical Trials Manager Princess Alexandra Hospital, Member of Australian Prostate Cancer Research Centre - Queensland,  Prostate Cancer Collaborative Research Alliance and Australian Lifestyle Medicine Association.
Dr Oleinikova completed her Medical Degree and post graduate training in Paediatrics in Kazakhstan. For over 4 years she provided Paediatric services working in a teaching community based hospital.  Since moving to Australia, Dr Oleinikova shifted her focus to Clinical Research in Urological Diseases and has acquired over 16 years experience working as a senior researcher.
Her role as a manager is to initiate and facilitate participation in Phase II/III Multi-Centre International Clinical Trials ensuring access to new and innovative treatment modalities for patients at the Princess Alexandra Hospital, to provide professional leadership in the completion and compliance of Clinical Trial Services, providing assurance with the rights, safety, protection and well-being of clinical trials participants, implementing quality assurance and the clinical data credibility in Urology Clinical Research. Irina provides immense support to the Multidisciplinary Team for Prostate Cancer by interviewing patients and being their advocate as well as recruiting patients for clinical trials and scientific research. She is particularly interested in helping patients  understand different knowledge systems including science and philosophy in  a way which is grounded, balanced, scientifically valid and clinically effective, motivating patients to embrace the concept of Life Style Medicine in managing their side effects of treatment and helping  patients to understand how to live mindfully with cancer.
Research interests
multidisciplinary team approach in prostate cancer care, prostate cancer, kidney cancer, circulating tumour cells
Current research projects
A Randomised, double-blind, phase 3 efficacy trial of Prostvac –V/F +GM-CSF in men with asymptomatic or minimally symptomatic metastatic, castrate-resistant prostate cancer.
A randomized, double-blind, placebo controlled, multi-center phase 3 study of Denosumab on prolonging bone metastasis – free survival in men with hormone – refractory prostate cancer.
Analysis of Biomarkers from Circulating Tumour Cells and Exosomes to monitor prostate cancer progression and treatment resistance.
SORCE Phase III randomized, double-blind study comparing Sorafenib with placebo in patients with resected primary renal cell carcinoma at high or intermediate risk of relapse
Collaborators
Colleen Nelson Executive Director, APCRC - Q
Simon Wood   Deputy Director of Urology, Princess Alexandra Hospital
Elizabeth McCaffrey Medical Oncologist, Princess Alexandra Hospital
Margot Lehman Radiation Oncologist, Princess Alexandra Hospital
Allison Eckert Queensland Coordinator, Australian Prostate Cancer BioResource
Professional memberships and associations
Australian Medical Council
Australian Health and Research Data Manager's Association
Australian LifeStyle Medicine Association
Australasian College of Nutritional and Environmental Medicine