Gregor Tevz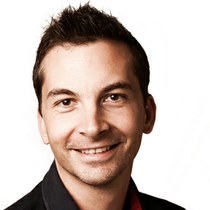 Positions
Postdoctoral Research Fellow, APCRC-Q
Member, IHBI, QUT
Contact Details
Email

Phone

+61 7 3443 7278
Related websites and profiles
Qualifications
Doctor of Science, Combined treatment of murine experimental tumors SA-1 and LPB by IL-12 gene electrotransfer and ionizing radiation, University of Ljubljana, Slovenia, April 2009
Bachelor of Science, Microbiology, University of Ljubljana, Slovenia, 2004
Biography
After receiving a Bachelor of Science of Microbiology from the University of Ljubljana, Dr Tevz took up a position as a research assistant at the National Institute of Chemistry Slovenia.
In 2005, Dr Tevz began his PhD, in Biomedical Sciences at the University of Ljubljana and Institute of Oncology Ljubljana.
After being awarded his PhD, Dr Tevz joined European Initial Training Network Consortium for Prostate Cancer Research as a Postdoctoral Fellow at Philips Research in Netherlands.
He then travelled to Australia to join the Australian Prostate Cancer Research Centre-Queensland where his main research focus is progression of prostate cancer to castrate resistant disease and identification and development of new therapeutic targets.
Awards and grants
| | | |
| --- | --- | --- |
| 2010 - 2011 | PRO-NEST | Marie Curie Initial Training Network Fellowship |
| 2008 | PROTEUS Grant | |
| 2005 - 2009 | Young Researcher's Fellowship | |
| 1993 - 2003 | Zois Fellowship | |
Research interests
prostate cancer, translational cancer research, drug discovery, in vivo cancer therapy
Current research projects
Deregulation of Alu-derived small regulatory RNAs by endogenous retrotransposons in prostate cancer
Top publications
Gregor Tevz , Darja Pavlin,  Urska Kamensek, Simona Kranjc, Suzana Vidic, Andrej Coer, Gregor Sersa & Maja Cemazar, Gene electrotransfer into murine skeletal muscle : a systematic analysis of parameters for long-term gene expression, Technology in cancer research and treatment, 2008 Apr; 7(2):91-101
Gregor Tevz, Simona Kranjc, Maja Cemazar, Urska Kamensek, Andrej Coer, Mojca Krzan, Suzana Vidic, Darja Pavlin & Gregor Sersa, Controlled systemic release of interleukin-12 after gene electrotransfer to muscle for cancer gene therapy alone or in combination with ionizing radiation in murine sarcomas, Journal of gene medicine, 2009 Dec; 11(12):1125-37
Gregor Tevz, Mojca, Bencina & Matic Legisa. Enhancing itaconic acid production by Aspergillus terreus, Applied microbiology and biotechnology, 2010 Aug; 87(5):1657-64; Epub 2010 May 12
Suzana Vidic, Darja Pavlin, Gregor Sersa, Andrej Coer, Simona Kranjc, Alenka Grosel, Gregor Tevz & Maja Cemazar, The effect of the histological properties of tumors on transfection efficiency of electrically assisted gene delivery to solid tumors in mice, Gene therapy (Basingstoke), 2007 Sep; 14(17):1261-9; Epub 2007 Jun 28
MARKELC, Bostjan, Gregor Tevz, Maja Cemazar, Simona Kranjc, Jaka Lavrencak, Bojana Zegura, Justin Teissie & Gregor Sersa, Muscle gene electrotransfer is increased by the antioxidant tempol in mice, Gene therapy (Basingstoke), 2011 Jun 30; doi: 10.1038/gt.2011.97; Epub ahead of print
Professional memberships and associations
Prostate Cancer Collaborative Research Alliance