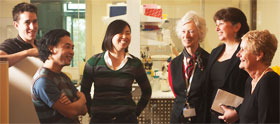 More About Us
The Australian Prostate Cancer Research Centre–Queensland is a disease-specific, multidisciplinary, highly collaborative prostate cancer research centre focusing on the development of new therapeutics and biomarkers for prostate cancer and their translation into the clinical setting. Located within the state-of-the-art Translational Research Institute in Brisbane, the APCRC–Q forms a hub for prostate cancer research in Queensland.
More >
Support the APCRC-Q Team during MOvember!
Globally, more than 1.4M men are diagnosed with prostate cancer each year.
Movember is working to halve the number of deaths from prostate cancer by 2030, and with our research, we help them get there! Thus, please donate to support prostate cancer research for all the dads, brothers, sons and mates in our lives!